Our Staff
Steve Fritsch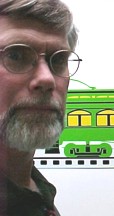 Administration, Sales, Engineering, Facilities, I.T., Special Projects
Steve has eight years of sign industry experience. During this time, Steve has been able to utilize his electromechanical background to solve many challenging projects. With his technical background Steve is careful to point out that technology is great, but along with the use of new technology comes the responsibility of choosing the correct technology and the training necessary to understand it and efficiently utilize it.
His prior work experience: for approximately 15 years he worked in commercial electronics, military grade electronics, and electromechanical liaison. Steve shares a patent for an electronic component in consumer electronics.
Steve was formally educated in two fields: Tool and Die (machine tooling) and Electronic Design. This education was interrupted by military service (Army, domestic and overseas- VN) after which he completed his Electronic Education at Northern Illinois University.
When not working, Steve enjoys participating in his family's activities at home, at school, on the sports fields, and in their church community. He has been, in the past, an active member of the Lynnwood Rotary Club and hopes to return to Rotary some day soon.