Employment Opportunities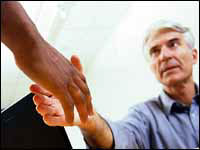 Current Openings...
  MISSION STATEMENT:
Our Mission is to establish and maintain our company as the "Go To" sign company in the business community... The best source for signs, promotional products and ideas in the Snohomish County and North King County areas. We will: · Provide our customers with highly functional and cost-effective solutions (products and services) to their promotional/signage needs and wants. · Maintain and improve operations which, without question, uphold the ideals and principles of our companies Business Philosophy (below). · Maintain and improve efficiency and profitability, enabling us to better support: our customers, our employees, new and innovative products and ideas.
__________________________________
BUSINESS PHILOSOPHY: EMPLOYEES / INTEGRITY :
Our belief is that our employees, along with the infrastructure of our company, are the most important asset that we have. We believe well-trained, highly motivated employees are the most important means of serving our customers; therefore, we will select, train, and reward employees who work in harmony and respectfully with fellow employees and place customer satisfaction first. In addition, we must be mindful of our employee needs, compensation must be fair and adequate, and working conditions clean, orderly, and safe. Employees must feel free to make suggestions. We must provide competent management and their actions must be just and ethical. We believe integrity is the cornerstone of all our business relationships; therefore, we will expect all our employees to be honest and forthright with our customers, our vendors, and with all others who they may contact in the name of the business.
CUSTOMERS:
We believe nothing happens until we make a sale, and sales are only made to customers; therefore, we will place the satisfaction of customers as our first responsibility, providing the customer with highly functional and cost-effective solutions which answer our customers needs and/or perceived needs.
PROFITS:
We believe our ability to properly serve our customers depends on our long-term profitability; therefore, we will manage our business to create a responsible return on investment to our stakeholders, and enable us to uphold our commitment to our employees and customers. This will also afford us the ability to carefully investigate new ideas and innovation, and pay for mistakes should they occur.
PLANNING:
We believe planning is the art of preparing for change; therefore, we will use planning as a management tool to keep us prepared for those changes that must come... developing, implementing, and measuring our long term methods, objectives and goals.
MANAGEMENT:
Our belief is that management is the art of leading people to accomplish stated objectives; therefore, leadership qualities and demonstrated ability to accomplish objectives will be the primary criteria by which we select and the evaluate managers. We believe that growth (of many forms) is a logical consequence of a well-managed company; therefore, we will evaluate management on the profitable, orderly, controlled growth the company sustains.
COMMUNITY:
We believe a profitable, growing business should, from its abundance, invest in the community that sustains it; therefore, we will individually and corporately invest in selected community service activities of our community
. __________________________________
To the Reader It is the intent of this Mission Statement and our Business Philosophy to establish a foundation (a platform) on which we build and maintain our company's culture (our company's way of thinking). These documents, in a way similar to the Constitution of the United States, only provide the foundation and guiding principles to how we operate.These principles are intended to be timeless and will rarely change. It is hereby MANDATED that all employees of Alderwood Signs know, understand, and implement these documents. It is hereby REQUESTED that all persons and companies with whom we have business relations respect these principles when doing business with us.
Alderwood Signs Steve and Maggie Fritsch