Products
Banners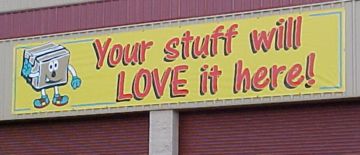 Big, bright banners give high impact promotion at low budget cost. They are especially well-suited for short-term use, annual event reuse, or for outdoor advertising in high traffic areas. Maybe you need business identification NOW, but your permanent sign is still three weeks away? Our top quality, reinforced vinyl banners are durable in any weather and are finished with hems and grommets or pole pockets (or as required) for easy hanging. Other, more cloth-like, banners are also available.
We can provide banners of virtually any size or configuration and in many standard colors. And of course, we have many adhesive vinyl colors to mark your banner with as well. We carry an inventory of ready to mark, hemmed and grommeted banners in the following sizes:
2 ft. x 5 ft.
2 ft. x 8 ft.
2 ft. x 10 ft.
3 ft. x 5 ft.
3 ft. x 8 ft.
3 ft. x 10 ft.
*Typically, the finished height of the banners loses 2 inches due to hems. For example, the 3 ft. banners will finish at a height of 34 inches. The length of the banner, however, remains unchanged.