Products
Freestanding Signs (Non-Electric)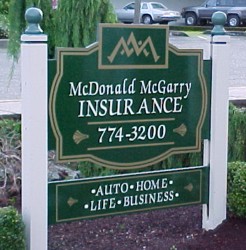 Freestanding signs, typically mounted on posts, can be produced in a variety of sizes and shapes. The basic freestanding signs consists of a sign panel and one or two posts. Generally these types of signs are used as Identification Signs for businesses, schools, facilities, etc. and are considered permanent installations... (see "Site/ Project... Signs" for more details on temporary freestanding signs).
For small signs, a single post may be used and the sign panel will be only one-sided (the post will cover a portion of the backside)... back-to-back panels mounted on a single post can be used when signage must be viewed from both sides.
For two sided panel installations, the posts (one on each end) may butt to the extreme ends of the panel allowing an unobstructed view to both sides of the sign panel.
The freestanding sign construction can be a combination of many different types of materials/ panel such as:
>> A flat, Vinyl Marked sign panel on 4x4 wood posts.
>> A flat, Vinyl Marked sign with Dimensional Letters added on 4x4 wood posts.
>> A Reader-Board panel with Changeable Letters on posts.
>> A Sandblast sign on posts.
>> :
>> :
>> A Metal Cabinet (non-electric) on wood or metal posts (see "Freestanding Signs, electric" for electric freestanding signs).
>> Etc.