Products
Illuminated Channel Letter Signs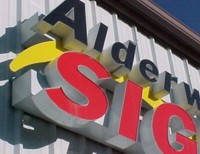 If you've ever driven past a strip mall at night, then you're probably familiar with the effectiveness of channel letter signs. One of the most common ways to sign your business.
There are several common types of channel letters, below are three of the more popular types:
STANDARD LETTER CONFIGURATION** with translucent acrylic face (or cover),
OPEN FACE LETTER CONFIGURATION** where either there is no face or the acrylic is clear in color and the neon tubing, internal to letter, can be seen,
REVERSE or "HALO" LETTER CONFIGURATION where the front surface is a solid painted surface and the internal lighting of each letter is directed out of the open back side toward the wall on which the channel letter is mounted creating a halo effect.
**the first two configurations above have 2 installation options (methods):
---No. 1 INDIVIDUAL LETTERS installation method: each letter is mounted individually to mounting surface/ wall. This requires transformers and other wiring to be mounted and concealed behind wall.
---No. 2 RACEWAY installation method: letters are mounted to a common metal structure (a long skinny box) called a RACEWAY. This method allows pre-assembly of the letters, transformers etc. to/ into the Raceway prior to installation on building and minimizes the on-site installation efforts. Because this method uses the additional complement of the Raceway, the overall cost of the installed sign will be similar to the cost of Individually Mounted channel letters.