Products
Sandblasted Wood Signs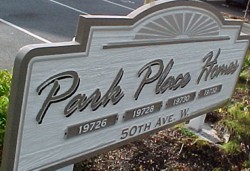 Expensive? Yes
BEAUTIFUL and EFFECTIVE? Very Much So!!
Sandblasted wood signs are typically made of dried cedar or redwood. Cedar is most popular in this area.
A stack of wood planks are bonded together... then belt sanded flat, resulting in a sign panel of excellent strength and warp resistance. This panel is then ready for masking with a heavy gauge rubber or vinyl mask material, it is now ready for blasting. There are 2 standard thicknesses: (A) 2 inch thickness (typically approximately 1.85 inch thick) and best suited for smaller (ie: less than five foot in length and single sided) signs and (B) 3 inch thickness (typically approximately 2.85 inch thick) and best suited for larger signs, and larger double sided signs).
The sandblasted areas of the sign are recessed approximately 1/8 to 3/8 inch deep, exposing the rough texture of the wood grain. The unblasted areas are the original smooth surfaces of the sign panel. The sign is then painted or stained to the specified colors. The result is an outstanding sign with the dimensional features and texture.
Maintenance: of course, cedar (and redwood) are woods which survive outdoor elements very well for many-many years, however, because of the dimension, texture, and the wood nature of these signs, some periodic maintenance should be performed to maintain the their beauty. Cleaning once a year is highly recommended and some touch up may be required every few years.