Products
ScreenPrinted Signs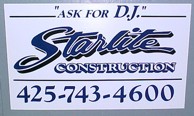 Some people still prefer to refer to this process as "Silkscreening", however the industry no longer uses screen fabrics made of silk, and thus the more general term "Screenprinting" is currently used.
When the quantity of signs being produced exceeds a certain quantity**, it is the time to consider the screenprinted sign over the computer cut vinyl sign or even the digitally printed sign.
** The quantity breakpoint at which screenprinted is the most cost-effective production method, is the point at which the artwork (screen exposing art) charges + screen setup charges + general setup and cleanup charges + the actual printing charges no longer exceed the costs associated with other production method... such as computer cut vinyl signs. In general, for a single color project, up to 24 in. by 24 in. sign size... the quantity breakpoint would be approximately 10 pieces. If one additional color were added (2 colors on white), the quantity breakpoint might be approximately 15 pieces. In other words as the complexity of the sign increases, the quantity breakpoint also increases.