Products
Site/ Project Signs and Real Estate Signs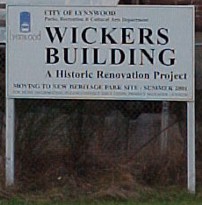 Do you have a Property or Construction Project you wish to promote? Computer cut vinyl markings or a large format digital print applied to 1/2-3/4 inch thick MDO plywood panels (for larger applications) ... or 4 mm corrugated plastic (for small, inexpensive applications) is an effective way to attract attention to your project or property.
A cost-effective alternative to plywood is a 10 mm (~0.4 inch) white corrugated plastic. This material has an outdoor life of approximately 12 to 24 months. (Additional support may be needed: when a full size 4 ft. x 8 ft. sheet is mounted to 4x4 posts, 2 additional 2 x 4 cross braces is recommended.)
Banners are also a cost-effective signage for many of these short to medium term applications. Banners can also be used to cover (reface) an existing sign panel or an old piece of plywood used as a backing panel for banner.
There are many alternatives, please contact us to discuss the most suitable for your application.